Thyroid Shields: Are you protected?
Your thyroid shield (or thyroid collar) is an essential part of your radiation protection gear. I don't need to spend too much time writing about how to wear one. Most people reading this wear a thyroid shield almost daily. Instead, I'd like to spend some time discussing tips on getting the most out of your shield and which ones are the best choice if you're shopping for one.
First some facts:
Your thyroid is one of the most sensitive organs in your body when it comes to radiation exposure (Iglesias, 2017). The increased use of medical radiation has also increased the risk of papillary thyroid cancer (Sinnot, 2010) for both patients and operators. Despite these figures many people are not using a thyroid shield that fits correctly. Let's look at some tips to remember when selecting the right thyroid shield
Make sure your entire thyroid is protected.
Many of the existing thyroid shields on the market have possible risks associated with their fit. The visor style shield below is commonly found in Operating Rooms, and Cath Lab suites across the country.
The way these thyroid shields are manufactured leaves holes in the protective material directly across the thyroid!
Two thyroid shields under x-ray showing stitch holes
You can see the radiation penetrating the shield through the holes caused by stitching.
Stitch holes in radiation protective garments are a necessity. Its how the garment is held together. The holes in this thyroid shield design pass directly over the thyroid gland itself.
There are alternatives to this design that are less of a risk…
1. A traditional style thyroid shield: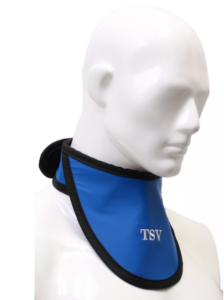 2.  A visor style that doesn't expose the thyroid
Consider the way you wear the thyroid shield
Some thyroid shield styles are meant to wear loosely, some are meant to wear close to the neck. Try wearing yours both ways to see which is more comfortable for you.
This thyroid shield is made to fit loosely and still protect the thyroid. The loose fit makes it easy for you to move your head up and down.
Thyroid shields don't have to be a drag to wear. Comfort doesn't have to be sacrificed for protection.
If you're interested in Thyroid shields, be sure to check our selection of shields here:
Want to See Quality Thyroid Shields?
Sources:
Iglesias, M. L., Schmidt, A., Ghuzlan, A. A., Lacroix, L., Chevillard, S., & Schlumberger, M. (2017). Radiation exposure and thyroid cancer: a review. Endocrinology and Metabolism, 61(2). Retrieved February 14, 2018, from http://www.scielo.br/scielo.php?script=sci_arttext&pid=S2359-39972017005002107&lng=en&nrm=iso&tlng=en
Sinnott B, Ron E, Schneider AB. Exposing the Thyroid to Radiation: A Review of Its Current Extent, Risks, and Implications. Endocrine Reviews. 2010;31(5):756-773. doi:10.1210/er.2010-0003.