Protective Material Guide
Burlington Medical is on a mission to provide you with the most effective protective material available. We offer six different types of material with exceptional attenuation properties. All six protective materials are offered in thicknesses of 0.25mm, 0.35mm, and 0.5mm to offer the best options to fit your needs.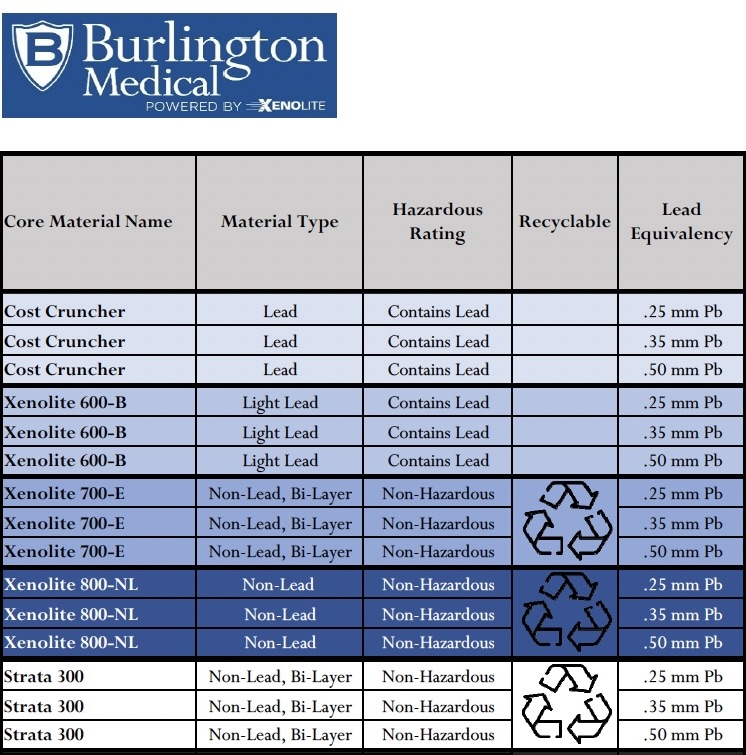 *Strata only available outside of the US.
THE LIGHTEST ATTENUATION MATERIAL ON THE MARKET XENOLITE 800 NL (No Lead)
XENOLITE "NL" is a lead-free, super-lightweight, flexible and recyclable x-radiation protection material, using a mixture of two attenuating elements, antimony and tungsten, in a mixture optimized for minimum area-weight and maximum attenuation in the key diagnostic imaging range of 80-100 kv.
| | | |
| --- | --- | --- |
| K-EDGE TECHNOLOGY | COMBINED WITH ADVANCED POLYMER TECHNOLOGY | ENVIRONMENTAL BENEFITS |
| The lighter weight (lead-vinyl is 32% heavier) results from the use of the two attenuating elements, where the antimony provides more efficient attenuation of that portion of the photon spectrum below the K-edge window of lead (35 88 keV), comple-mented by the higher Z element tungsten, which is more efficient for stopping higher energy radiation (02 69 keV), and also covers the K-edge window of antimony (< 35 keV). | The attenuating elements, in fine powder form, are supported, encapsulated and homogeneously distributed in a tough-but flexible, high-tech plasticized Dow elastomer matrix. This Dow-DuPont developed elastomer carrier was selected in 2012 after 3 year's R&D as having the best balance of toughness, flexibility, durability and cracking resistance, and is more commonly used for flexing components (e.g, running shoes, wire and cable). | The lead-free material is not "cross-linked" (or "cured") and is therefore fully recyclable, and thermally re-processable, or may be disposed of as a non-hazardous, non-toxic waste, in municipal landfills. |
LEAD-FREE 
XENOLITE®800-NL: a lead-free, super-lightweight two-element composite, 800-NL is recyclable and safe for non-hazardous disposal. 
XENOLITE®700-E: a lead-free, lightweight two-element composite, 700-E is recyclable and safe for non-hazardous disposal. 
LIGHT WEIGHT LEAD COMPOSITE 
TRUELITE (Internationally): TrueLite is a lightweight lead composite material that has been offered for over 15 years.
XENOLITE®600-B: the original lightweight composite, three-element material, with some lead content. 600-B is mid-priced and recyclable. 
LEAD 
Cost Cruncher (Lead 900): a 100% lead-based material, Cost Cruncher is the traditional protective material, used frequently by technicians who do not require extended intervals of time for apron use. It is a lower-priced, non-weight sensitive product used for gamma-radiation (Nuclear Medicine) applications, as well as x-ray procedures (CT-assist, thorax) over 120 kV.